Starting this month, we're excited to launch our new webinar series in conjunction with the Association of Support Professionals (ASP). These won't be your standard, boring webinars! Instead, ASP is pairing TeamSupport's CEO, Robert Johnson, up with some of the most innovative and forward-thinking minds in the customer support industry. These webinars will delve into ground-breaking topics you want to know more about and will uncover great insights to help you improve your support operations.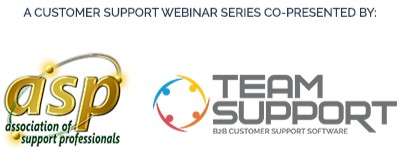 For our first webinar, we'll be discussing Advanced AI Tools for Customer Support with Lily Ryzebol of IBM. This is an excellent guest to kick off our series as Lily implements AI (artificial intelligence) directly into the customer support operations at IBM. She leads the usage of its Watson technology internally so IBM is able to provide better support to their own customers. We can't wait to hear the tips and tricks she has to share!
The topic of AI is red hot not only in the customer support industry but also in the business world as a whole. According to Adobe, only 15% of enterprises currently use AI in their operations. This percentage is expected to more than double by 2020. Why? AI simplifies the workflows of employees in all departments, including customer support, to improve efficiency and productivity. Given this growth, we look forward to hosting multiple AI experts in the field of customer support during the webinar series.
Join us Thursday, November 15th at 11am CST https://register.gotowebinar.com/register/6916957675936032771
*** If you can't attend during this time, register and we'll still send you the recording! ***
After signing up, you will receive a confirmation email with information about joining the webinar.
We look forward to having you for this great discussion!