We're excited to continue our new webinar series in conjunction with the Association of Support Professionals (ASP). These aren't be your standard, boring webinars! Instead, ASP is pairing TeamSupport's CEO, Robert Johnson, up with some of the most innovative and forward-thinking minds in the customer support industry. These webinars will delve into ground-breaking topics you want to know more about and will uncover great insights to help you improve your support operations.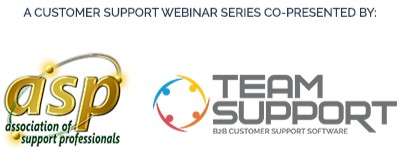 For our second webinar, we'll be discussing Developing Your Own Advanced AI Tools for Support With Dave Jobling and Birgit Hansen of Tableau. These are great guests to continue our series as they both lead the charge at Tableau in regards to how AI impacts their support operation. With several decades of combined experience in the support industry, there will be lots of excellent technical tidbits you can take away to improve your own offering!
More and more, companies are looking to build their own AI tools in-house. According to McKinsey & Company, 45% of executives are already worried about not investing enough in AI (artificial intelligence) to keep up with the competition. This means that one way to stay ahead of the curve without breaking the budget is to develop your own AI solutions to improve productivity and streamline communication. We are excited to speak with Dave and Birgit about creating their own AI tools and learn from their experiences!
Join us Thursday, December 13th at 11am CST https://www.teamsupport.com/webinar-developing-customer-support-ai-tools
*** If you can't attend during this time, register and we'll still send you the recording! ***
After signing up, you will receive a confirmation email with information about joining the webinar.
We look forward to having you for this great discussion!