We're excited to continue our new webinar series in conjunction with the Association of Support Professionals (ASP). These aren't be your standard, boring webinars! Instead, ASP is pairing TeamSupport's CEO, Robert Johnson, up with some of the most innovative and forward-thinking minds in the customer support industry. These webinars will delve into ground-breaking topics you want to know more about and will uncover great insights to help you improve your support operations.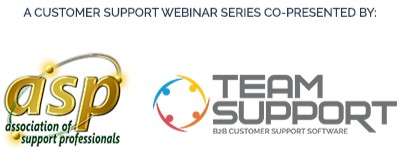 For our third webinar, we'll be discussing Using AI Tools to Enhance Customer Support With Dan Nowitz at PTC. Holding several key positions at PTC for over 13 years, Dan is truly an expert at leveraging technology to improve the customer experience. He has a great viewpoint on what AI technologies are best created in-house and which are better to outsource to specialized companies.
The concept of AI is now on the radar of many companies throughout the B2B industry. With AI spending projected by IDC to reach $58 billion by 2021, investing in the right technology from the start matters more than ever. It's up to companies to complete their due diligence on vendors and weigh the options of what AI solutions truly require an outsourced spend. We are excited to speak with Dan to tap into his expertise on this hot topic!
Join us Thursday, January 17th at 11am CST
https://www.teamsupport.com/webinar-using-ai-enhance-support
*** If you can't attend during this time, register and we'll still send you the recording! ***
After signing up, you will receive a confirmation email with information about joining the webinar.
We look forward to having you for this great discussion!